The Olympic Games is the world foremost sports in which thousands of athletes from more than 200 nations participate in a variety of competitions concentrated in a few weeks, given rise to a huge amount on data.
This will be the 26th Summer Olympics and the third in London – the only city ever to have three games and the first to have an Open Data Olympics thanks to the superb data driven journalism work by The Guardian Data Store.
London 2012 Olympics data
As soon as the first Olympic event begins, we are assaulted by data of every kind – results, medal tables or venue details; and that's without the statistics-based stories we will see on transport, logistical challenges or tourism.
It's a feast of numbers, but where can you get the key facts? The London 2012 Olympics data site is the answer. There you will find key data from top sources in a format you can use to develop your own applications if you want, plus great visualisations from the Guardian's graphics team.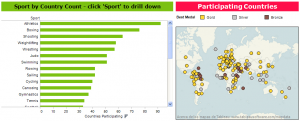 From every Olympic medal and medalist visualized, including every alternative interpretation you can imagine, to the full list of Olympic athletes, without forgetting about the Olympic spendings.
Which countries have won the most Olympic medals? Who has won the most too?
What would happen if you look at medal tables by population size, or GDP – or even compared to the number of athletes in each team?
Where is the Olympics money coming from – and where's it being spent?
All these questions and much more have now their answers at London 2012 Olympics data site, and that's just the start, as The Guardian data crew will be adding more every day. What else would you like to see? Let them know at data@guardian.co.uk.
So, enjoy the world's first Socialympics that will be remembered as the most connected and Open Olympic Games in history. As Tim Berners-Lee, Web inventor, tweeted from stage from the middle of opening ceremony:
This is for everyone – Tim Berners-Lee